Green Bay Packers v Arizona Cardinals
GLENDALE, ARIZONA - OCTOBER 28: Eric Stokes #21 of the Green Bay Packers congratulates Rasul Douglas #29 following an interception during the fourth quarter of a game against the Arizona Cardinals at State Farm Stadium on October 28, 2021 in Glendale, Arizona. (Photo by Christian Petersen/Getty Images)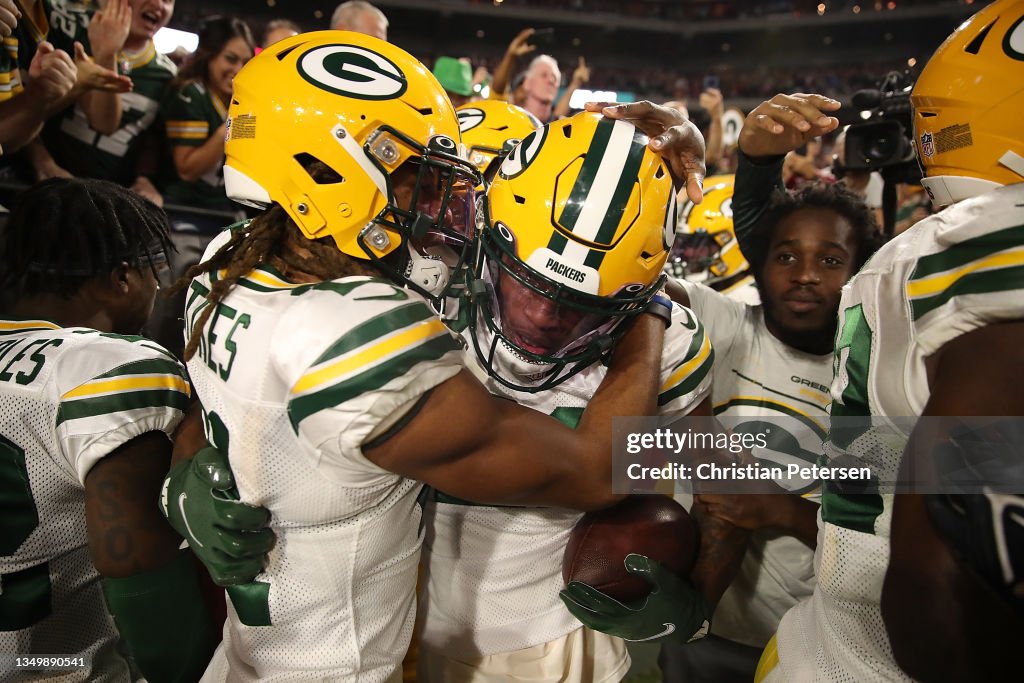 Wie darf ich dieses Bild verwenden?
DETAILS
Einschränkungen:
Bei kommerzieller Verwendung sowie für verkaufsfördernde Zwecke kontaktieren Sie bitte Ihr lokales Büro. Vollständige redaktionelle Rechte in Großbritannien, USA, Irland, Australien, Neuseeland, Kanada (außer Quebec). Eingeschränkte redaktionelle Rechte für Tageszeitungskunden in allen anderen Ländern. Bitte kontaktieren Sie uns.
During game play, no use of images within play-by-play, statistical account or depiction of a game (e.g., limited to use of fewer than 10 images during the game).
Kollektion:
Getty Images Sport
Erstellt am:
28. Oktober 2021
Quelle:
Getty Images North America
Objektname:
ckpb3644_20211028113350467
Max. Dateigröße:
3000 x 2000 px (25,40 x 16,93 cm) - 300 dpi - 2 MB